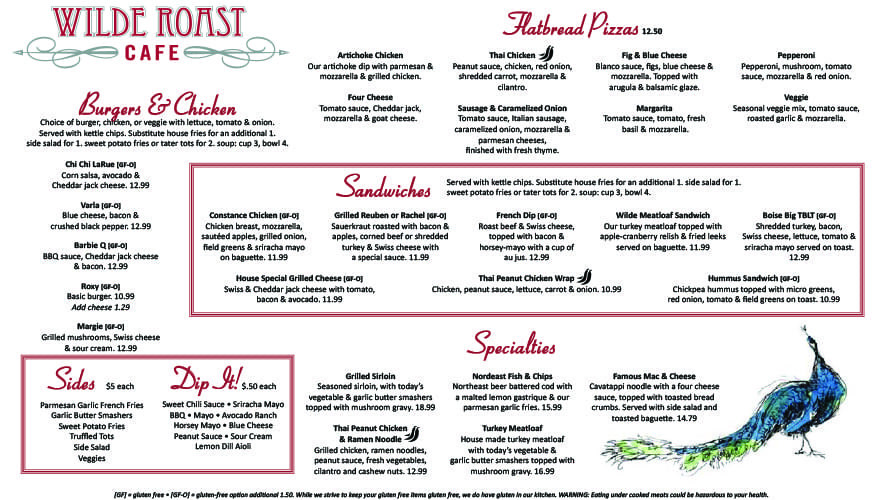 Menus have evolved over the years to serve multiple purposes -- be it branding and marketing, or setting the tone of the dining experience, menus are an important extension of your business and point of contact with customers. As a restaurant owner or manager, however, you shouldn't overlook the fact that your menu design can enable better sales, first and foremost. A pretty menu that highlights low-margin items doesn't add value to your business.
Here are ten tactical menu design tips to achieve more sales:



1. Keep it simple.
Restaurant patrons aren't looking to be overwhelmed when it comes to reading a menu. A clean, simple design will convert better than a list of options or large chunks of expository text. A visually pleasing design effectively uses white space and naturally guides the eye to key menu items.



2. Ditch the dollar signs.
Pricing shouldn't be the center of attention. One way to downplay price is to remove any associated dollar signs as they tend to elicit a negative emotional response. You want them to concentrate on the food, not the price.
3. Don't line up the prices.
A list of prices that is aligned to the left or right is easily scannable, which could encourage people to choose lower-priced items out of habit. Mixing up the placement of pricing throughout the menu will minimize decisions based on price comparisons.



4. Have a plan for the high-margin items.
Studies have shown that when people pick up a menu, they tend to follow certain patterns that draw the eyes to the upper right-hand side of the page first, then to the center of the menu, before following the natural reading pattern of left to right, top to bottom. Be conscious of placing key sellers in go-to spots where the eye is drawn.



5. Use call-out sections.
Call-out sections that are boxed or that use a different background color are another way to highlight your best sellers in terms of profit. Want customers to find a certain item? Box it up for them.
6. Save the dessert for a separate menu.
We're keeping it simple, right? So don't give customers the option to calculate dessert prices with other menu options right off the bat. Let them decide on an appetizer and entree first. When they're ready to check out the dessert menu, they'll be less likely to worry about the overall cost of their meal at that point.
7. Use simple, descriptive language.
Try to avoid kitchen jargon or long sections of text that will confuse patrons. Yes, more and more people consider themselves foodies, but simple, descriptive language in the item's title will attract more sales.
8. Break it up.
In addition to white space and call-out sections, you can use different fonts, sizes, and colors to attract the eye. Use this technique sparingly -- you don't want the overall design to look too busy.
9. Shout out to social apps and your online menu.
Be discreet, but let your customers know that they can find you online through your website and social channels, especially if you offer promotional programs, take-out service or delivery. Many people will peruse a menu with their phone out. Let them connect with you right away.


10. Switch it up.
Has it been awhile since you've designed new menus? You don't have to wait for changes in the kitchen to revamp a stale menu. With each new menu iteration, be sure to take notes on any tweaks, and use past notes to see what was successful with previous versions. While you're at it, consider if it's the right time to raise any prices.
---
Yes, your menus should match the tone and atmosphere of your restaurant. But, they should also be working to boost your bottom line. Make sure you develop a visually pleasing design that also leverages human behavior to increase sales.
Looking for other ways to make your restaurant more profitable? Download our FREE Restaurant Profitability Checklist below!