In the year 2020, a cough has taken on a new meaning. By now, you have likely coughed in front of somebody and received a wide-eyed look.
As an employer, what should you do if one of your employees experiences a coughing fit? On top of the CDC guidelines, of course, you must consider the circumstances, your employees, your customers, and your business.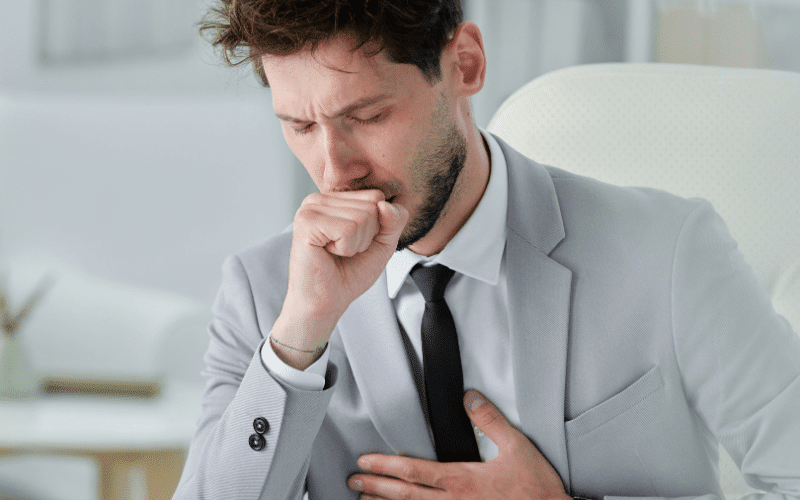 NOTE: You should be aware of and closely follow the CDC's guidelines for businesses and employers.
This article is regarding a hypothetical situation. It is considering that 1) the employee experiences only one coughing fit, and 2) the employee did not display signs of being ill before going to work.
Employees should not go to work if they are displaying any symptoms of COVID-19, and employers must send home any employees who are displaying symptoms of COVID-19.
---
Things to Consider
The Circumstances
Your employee has a violent coughing fit, but how can you be sure if they have COVID-19? You can't. However, you can familiarize yourself with the symptoms of COVID-19. While your employee has a responsibility to monitor their own health, it's certainly beneficial for you to be able to spot the signs as well.
If your employee has only one bout of coughing, they may simply have had something stuck in their throat. That alone is no reason to panic! You should also consider whether or not it could have been from a mild illness, a side effect of smoking, a sign of asthma, or a result of inhaling an irritant. If the employee claims any of these are the reason for their cough, some HR representatives recommend sending an employee home with pay until the coughing subsides.
You should send an employee home when the cough is persistent, another symptom is evident, the employee states that they wish to leave, or for other reasons according to CDC guidelines.
Your Employees
Your first concern, naturally, is the employee who has experienced a coughing fit. You want to make sure they're feeling alright! However, you should also consider that if the employee wants to leave, it will be a top concern in their mind. Their efficiency and quality of work may decrease if they are concerned for their health or the health of others around them.
They shouldn't have to use their sick time if they are going to get tested for COVID-19. Many states have also put special COVID-19 unemployment benefits into place; be sure your employee is educated on their benefits if they choose to leave work.
If one employee coughs in front of others, the rest of your staff may worry. You have a responsibility to your other employees to keep them as safe as possible. Be sure they know that you're watching out for them, and be transparent about the situation and your actions. You know your staff best, so it is up to you to decide how to relieve potential concerns. Perhaps to ease concerns about the future, you could implement a mask policy -- even if your business is not mandated to have one.
Your Customers
Depending on your type of business, your employees may interact with your customers quite a bit. This can involve speaking to one another, standing in close proximity of one another, touching the same items, or even touching one another. You care about your customers, and their health matters to you. You don't want your customers to be weary of visiting again in the future, so if your employees interact with your customers, make sure they are healthy.
Your Business
If you have an employee displaying symptoms (such as a repetitive, persistent cough) who is interacting with your customers, your reputation can be extremely damaged. Your reputation is what keeps new customers coming in and old customers coming back. Not to mention, if a customer gets sick from visiting your establishment, there may be repercussions beyond what you would expect. In this instance, it's better for your business if you use caution.
Ready to learn more?
At CSI Accounting & Payroll, we do more than just offer financial services. We also offer small business HR consulting and solutions. If you have any questions, just click the button below.