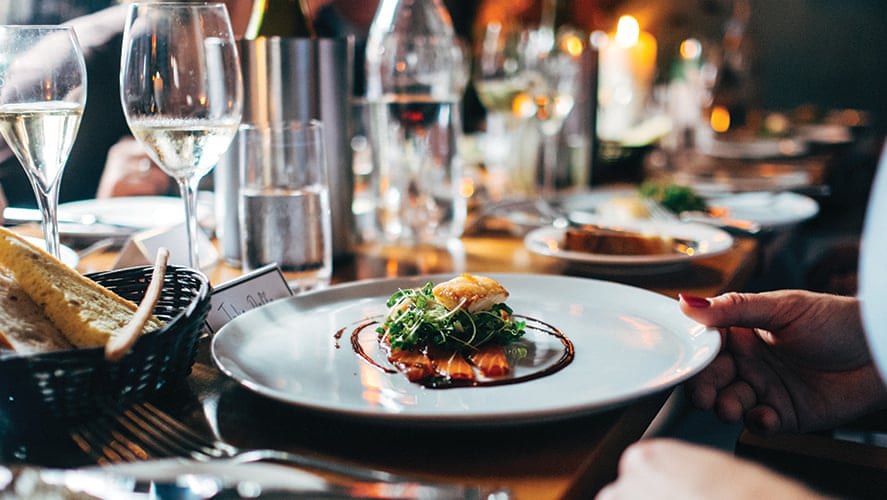 ---
Editor's Note: Today's post is authored by Keane Amdahl. Amdahl is a food writer in the Twin Cities; his writing has been featured in City Pages, Thrillist, Eater, Lavender Magazine, and TC Food Finds. He also writes about the restaurant industry on his blog, FoodStoned. CSI Accounting & Payroll provides monthly accounting services and payroll processing for small businesses in the Twin Cities, including many restaurants.
---
If there's one true thing to know about any business, it's that there's no silver bullet or magic equation that will automatically make it successful; this is especially true of the hospitality industry. When your singular goal is to please as many people as you possibly can through your food, service, and ambiance, you can quickly find yourself pulled in a multitude of different directions. In fact, the hospitality industry is probably the only industry that proactively tries to shuck the old adage, "You can't be all things to all people."
Restaurants are notoriously one of the most difficult businesses to run -- the costs are high, the margins are low, and the work is incredibly hard. If a restaurant does happen to make a good go of it, financially speaking, often times owners and chefs can become burnt out because, in order to bring a restaurant up to that level, it requires an immense effort, and it's not always about the dollar. If you actually stop and look at everything that an independent restaurant owner has to do, the workload is staggering, to say the least.
First off, there's the development of the restaurant. Deciding what you want to be, what kind of food you want to serve, and what kind of clientele you want to attract can all be daunting tasks. And once that's all said and done, there's the day-to-day grind. Ordering supplies, developing menus or specials, scheduling staff, cleaning duties, doing the books, and figuring out payroll are no small feat. How do you balance all of that?
We reached out to a handful of successful industry professionals and identified a few key factors to help you to determine whether or not you're on the right path.
Define Success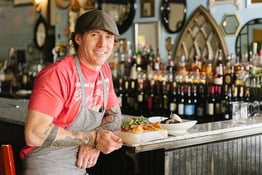 Before you even get started, it's important to know what "success" looks like to you. All too often when you ask a restaurant owner or chef of a well-reputed restaurant, their first answer always centers on income.
According to Chef and owner Leonard Anderson (pictured right), of St. Paul's beloved farm-to-table concept, Tongue in Cheek, "As long as you can stay open and cover costs, that's really the goal."
While building a sustainable income should always come first, for other chefs the idea of success tends to run a little broader and encompasses more than just the financials.
Chef and owner, Doug Flicker, of Minneapolis' acclaimed fine dining restaurant Piccolo, explained that, "I think it has a lot more to do with having a successful "brand" these days. It's no longer just paying the bills and taking care of your staff, it's become more and more about what you do outside of the restaurant's walls. Keeping up on things like Twitter and Instagram, along with doing top chef collaborations with other restaurants in other cities."
Build the Right Team
Turns out, one of the biggest things you can do for yourself is to build and manage a team of people that can help see your concept through. When it comes to management, most successful chefs work to teach, train, and lead by example.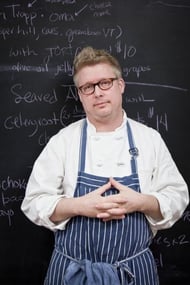 "Being hands on is huge," explained Chef Flicker (pictured left). "I want to be in the kitchen and on the line at both Sandcastle and Piccolo as much as possible, but there's only so much time in the day and only so many days in the week. Having good people, listening to what they think, and stepping back to let them do their jobs. Give people the tools and let them use them."
Allowing your team to take the reins can really help to develop moral and a sense of ownership among employees. These are the people that you need to rely on to get things done, but you have to make sure that you instill your trust in them to do the things that you've trained them to do.
Once upon a time it wasn't unusual to find managers who didn't feel the need to explain the "what's" and "whys" to their employees, but these days it can be crucial in helping to retain a team that you can trust. Employees should know what and why you choose to do things a certain way and in turn, the feedback loop should be kept open so that they can communicate back to you if things aren't working out the way you want them too. These can be critical elements in building a business that's designed for success.
Develop a Routine
One of the biggest things that people often leave to the wayside is actually fairly simple and one of the most straight forward things you can do; make sure you develop a solid routine. Like everything in the restaurant business, it's all about repetition and consistency.
Chef Anderson explained that, "Because I've been doing it for so long at this point it's mostly just muscle memory. There are things to do like making daily checklists and reminders, but yeah, most of that's just become muscle memory."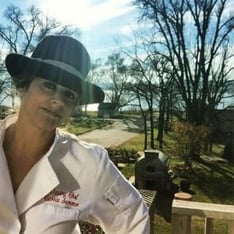 Chef Carrie Summer (pictured right), who along with her partner, Lisa Carlson, run the Chef Shack empire, which includes two wildly successful food trucks and two brick-and-mortar restaurants. When it comes to managing their businesses, Chef Summer said that you have to "involve employees in decisions and problem solving. Making lists for everything and keep a communications book along with weekly training."
A well-maintained routine helps to make sure that things stay on task and that you don't get distracted by potentially negative outside influences. Block out your time wisely, making sure to set aside time each day for the variety of activities that you need to accomplish. Set aside an hour for social media, an hour for bookkeeping, an hour for ordering, or however long you need to accomplish the task, but make sure you stick to the schedule. Over time, it will become second nature, and your restaurant will run more efficiently.
Use Available Tools & Services
There are, of course, a host of tools and services for budding restaurateurs to help keep track of the books, schedules, payroll, and variety of other restaurant systems. For instance, simple social media management tools are available for a few dollars a month or less, and these tools can allow you to plot out your week by pre-scheduling social posts ahead of time, which will ultimately result in some fairly significant time-savings.
Chef Summer explained that at Chef Shack, they use technology in a variety of ways, including various reporting functions along with keeping customers up-to-date on what's going on, such as posting menu updates and changes through their various social media platforms.
On a similar note, Chef Anderson explained that he uses technology when it comes to keeping track of reservations, social media management, and even security.
"Technology is huge," said Chef Flicker. "I can operate 70% of my business through my smartphone. I can check sales, tweet, order product via email or text, send pictures of dishes to my chef de cuisine and get his input for plating, and then I can Instagram it when it's all done. There are also great POS apps for iPads to help with front-of-house stuff, too."
Final Thoughts
When it comes to building out and developing your own restaurant concept, there are no real tricks or secrets. You can't just wave a magic wand and make things go. But as it turns out, there are some tried and true things that you can to in order to develop a better shot at becoming successful. Defining what success looks like early on, building a team that can serve as a strong foundation for your business, developing strong daily routines, and taking advantage of the tools and services that exist to help in your day-to-day operations are all things you can do to help put you on the right path to your self-defined version of success.
One last bit of poignant advice comes straight from the mouth of Chef Summer who, in addition to all the other stuff, suggests that if you're getting into the restaurant industry you should also, "make sure to grow some thick skin!"
---
CSI Accounting & Payroll provides monthly accounting services and payroll processing for small businesses in the Twin Cities, including many restaurants. Contact us today to schedule a consultation and download our FREE Restaurant Profitability Checklist.