Many small business owners hesitate to reach out to their accountants before tax season, but if your accountant does your books and nothing more, then you aren't getting your money's worth.
Reaching out for help prior to a business decision – even a small one – can result in tax savings, cost cutting, or increased profitability. Here are 3 times to reach out to your accountant, or invest in a new one who will help grow your business.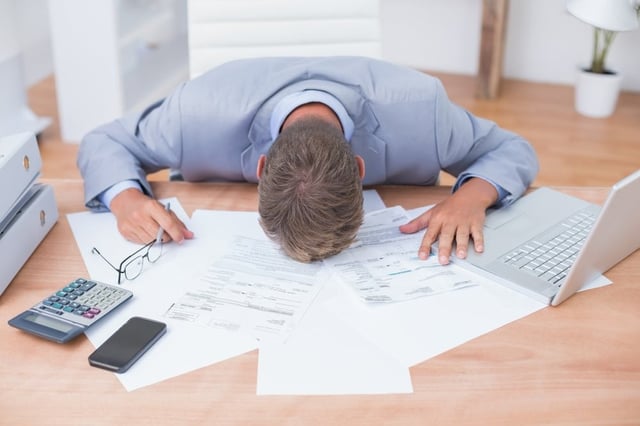 1. You've fallen behind on your books.
Many people are embarrassed when they fall behind on their books, but don't let messy books keep you from reaching out to your accountant. Even if you have a budget and cash flow system set up, your books will qualify as "messy" by accounting standards if:
You're not separating your business and personal finances. This is a must for all LLCs and corporations.
You don't save receipts. You may know where this money is going, but the government doesn't. You should be saving receipts that are up to six years old in case of an audit.
Your books can't be reconciled. Does the cash in your bank account match your statements? Make sure that you can provide outside evidence that account balances are what they should be.
2. You want to get a jump-start on tax season.
Most business owners dread tax season. Take the opportunity now to get your books in order and streamline your filing process. A good accountant can also spot trends in your financial habits and make recommendations that will increase your spending efficiency and help you to make wise investments.
We recommend contacting your accountant before you begin to gather important tax documents. In addition, if tax laws have recently changed for your industry, your accountant will be able to help you make sense of these changes and ensure you're in compliance with new regulations.
It's especially important to contact your accountant if your business is facing an audit this year. A professional will help you get your documents in order and prepare you to make your strongest case to the IRS.
3. You're planning for the upcoming fiscal year or major business changes.
Are you creating your budget for next year, or are you strategizing ways to attract new business? You may want to get implement these moves as soon as possible, but contacting your accountant now can help set you up for success and save you time down the road when things get busy.
Your accountant is also a good financial sounding board if you're considering creating and hiring for a new position, acquiring a company vehicle, or making other large investments. Taking the time to fine tune your decision today can have big payoffs down the road.
Do you need a new financial partner?
The right accountant can do much more than prepare your records for tax season; they should also be a valuable partner in making your business more profitable over time. They should be as familiar or even more familiar with your finances than you are. Good accountants can spot errors from month to month and recommend improvements.
If you aren't getting the kind of financial support you need, finding a new accounting service is the best thing you can do for your business. Don't let fears about the transition hold you back. Contrary to popular belief, changing accountants can be easy with the right approach.
Are you facing a business challenge that an accountant could help you manage? Set up a consultation with CSI Accounting & Payroll today and see how we can help grow your business. We'll support the financial side of your business. In turn, you'll be able to focus on your product, your team, and your customers. Don't wait until your retail needs become too complex to manage; schedule a consultation today and start planning for your future success.