CSI's Accounting Business Model & Costs
October 19th, 2023 | 4 min. read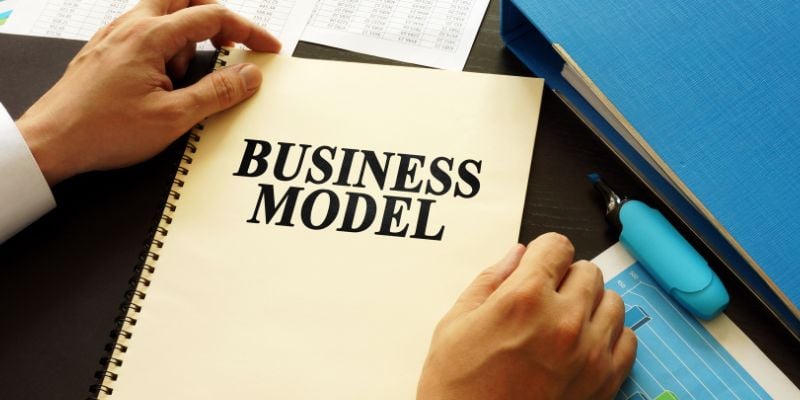 If you're interested in working with CSI, you probably want to have an idea of what our business structure and costs look like ahead of time. In our more than 50 years of working with small businesses, we know what small business owners want to learn about our:
Setup
Back taxes
Monthly accounting service moving forward
CSI Setup & Associated Costs
When you first start with an outsourced service, you're probably expecting a startup fee. It's the norm now, and if a service thoroughly explains the extra work they do to get you up and running, it's often very reasonable.
At CSI Accounting & Payroll, we charge an onboarding fee for our clients. Our price varies for everyone since it's based on our monthly accounting fee. The formula to find your upfront cost to work with us is:
Onboarding fee = (Monthly fee * 2) + $1,000
Read about everything the onboarding fee covers here.
Next, we move to handling your back taxes.
CSI Back Taxes & Associated Costs
Back taxes, also called back work, are necessary to get a business's books caught up when they are transitioning from one accounting service to another. It is also part of how CSI is able to guarantee audit-proofed books.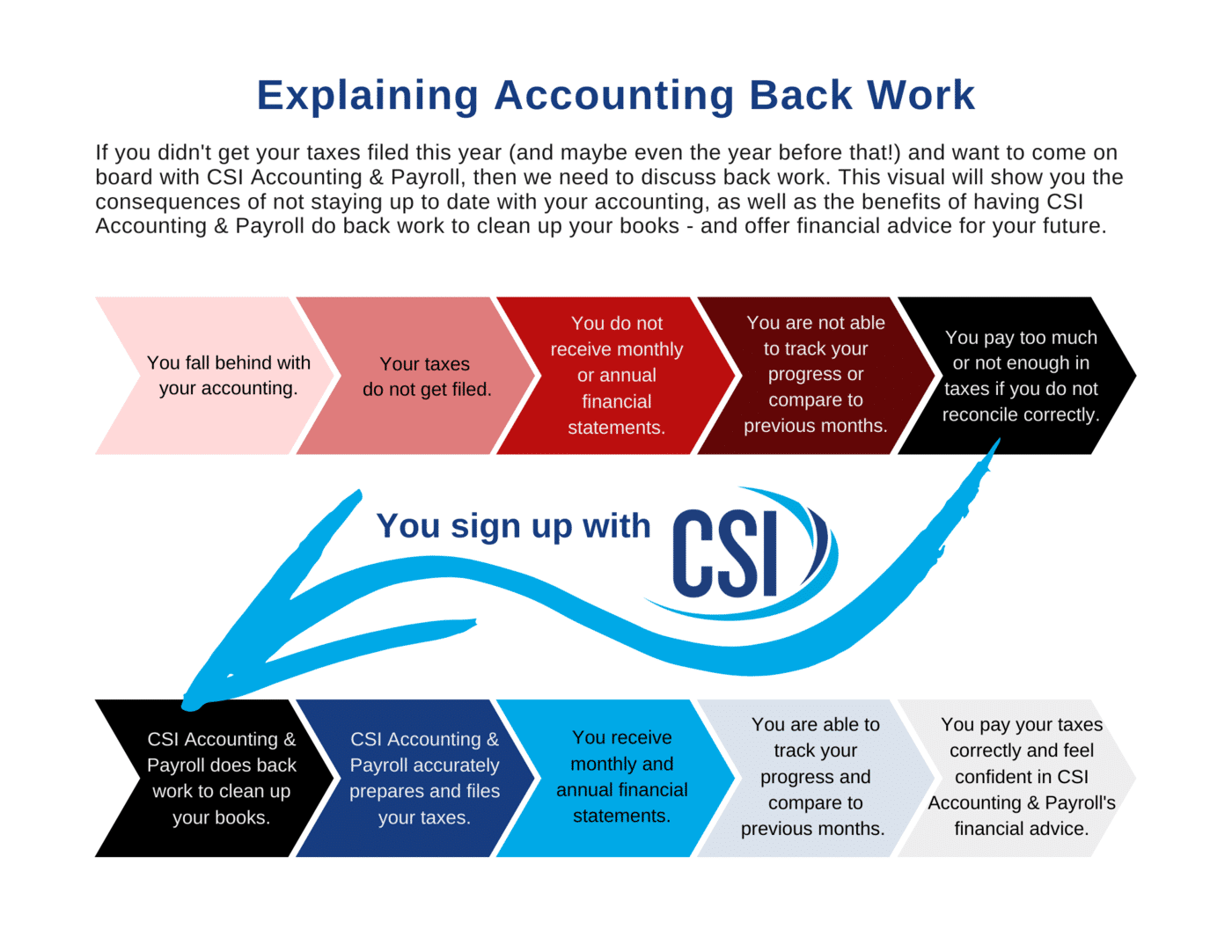 The basic formula to determine the price of your back work is:
Back Work Price = Number of Prior Months to Work On * Monthly Fee
To determine how far back we need to go, we find the last verifiable tax return or financial statement that was prepared by a party outside of your company. If the last completed item was a tax return, then your books are likely accurate through the end of December for that filed year.
After your back work is done, we start tackling your accounting moving forward.
CSI Monthly Accounting & Associated Costs
Once you're onboarded, your monthly fee is set. This amount is re-examined every six months or so, just to make sure your fee matches the service you are receiving. To find your monthly accounting fee, we need to examine some variables and complexities.
Our average small business client would either have a complex accounting situation with roughly 50 business transactions each month, or no complexities and just under 100 business transactions each month.
This person would have an average fee, which comes out to approximately $675 per month. However, depending on your activity and complexities, your fee can range from $500 to $1,000+ per month.
The fee includes monthly profit and loss statements, monthly balance sheets, monthly bank reconciliation, business tax work, sales tax filings, audit representation, and unlimited one-off questions.
Know How Accounting Service Fees Change
When you sign up for an accounting service, you're probably expecting different fees associated with onboarding, catch-up work, and service moving forward. However, many services aren't upfront with these costs.
At CSI Accounting & Payroll, we believe in transparency and know that our clients won't be happy if they're facing fees they weren't expecting. Now you know the formulas we use to calculate our onboarding fee and back work fee, and you know the variables that go into pricing our monthly accounting service.
If you're ready to get started talking to a professional, click the button below to schedule your free consultation to see if we can be a good fit for your business.
Not ready to talk? That's okay! First, learn more about what it's like to work with CSI by clicking the image below:
Brian began working at CSI in 1996, and he purchased the business in 2002. As Owner, his primary role is in the management and growth of the firm. Since 2002, the firm has more than quadrupled in size. In 2009, Brian started CSI's payroll service to complement CSI's accounting and tax services. Brian received his Bachelor's degree from the University of North Dakota, with a double major in Accounting and Financial Management. He's a member of both the National Society for Tax Professionals and the National Society for Accountants, and he serves on the board of directors for the Professional Association of Small Business Accountants, where he was once president. Brian also serves on the business advisory council for Opportunity Partners, an organization that helps people with disabilities find employment. He's also contributed to several business books, including Six Steps to Small Business Success and The Lean Mean Business Machine. Fun Fact: To help put himself through college, he used student loans, delivered pizzas, and worked summers in a salmon processing plant in Alaska.