Accounting and Payroll Case Study: Sports Page Bar & Grill
November 23rd, 2022 | 5 min. read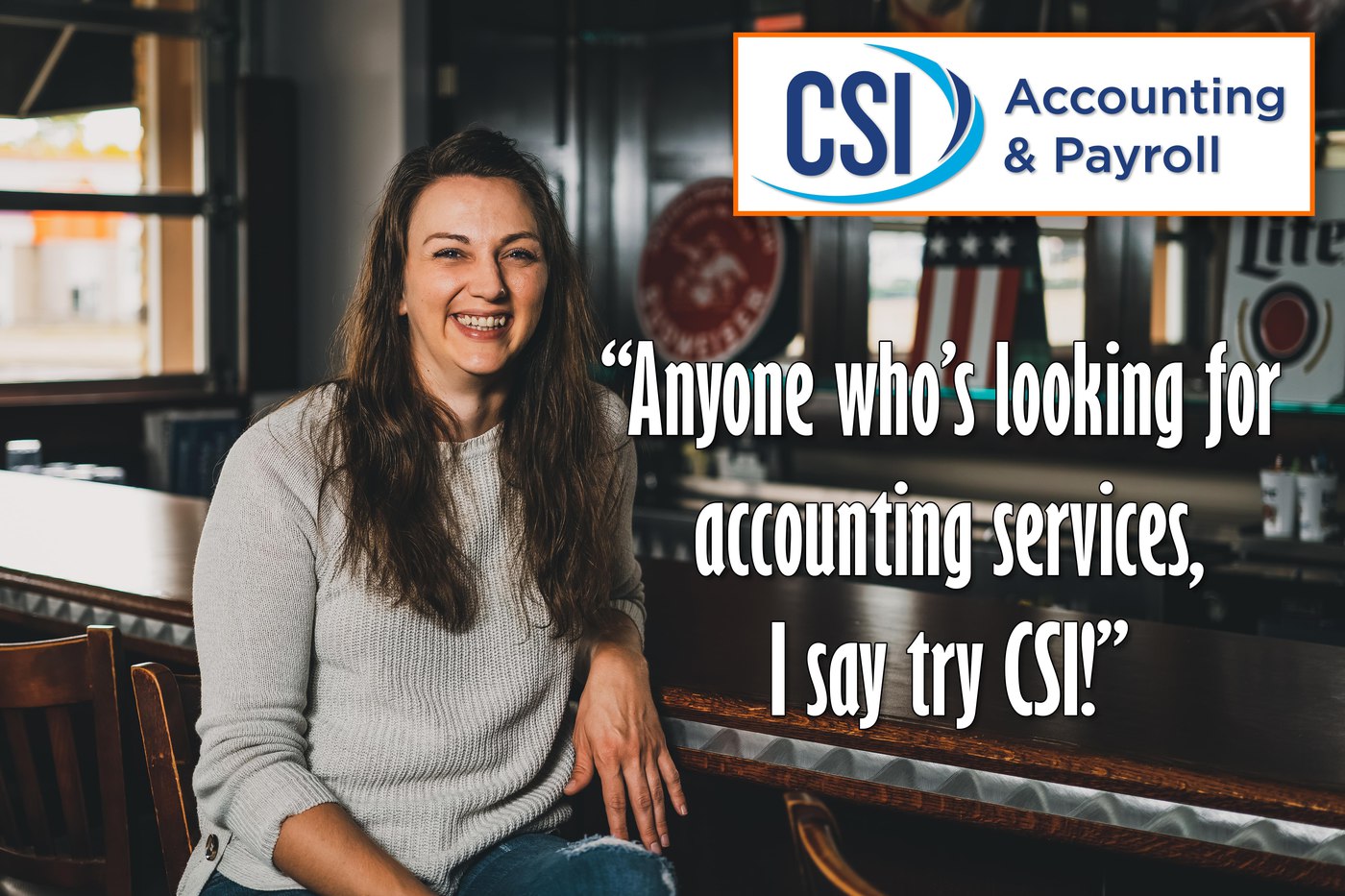 Have you heard of Sports Page Bar & Grill in Bloomington, Minnesota? According to the owner, Becky Rademacher, "It's just a local sports bar. You know - greasy burgers, cold beer, nothing too fancy."
Becky's story is a little different from other clients'. She didn't struggle with other accounting or payroll providers, but she wanted to share the story of how CSI Accounting & Payroll helped her business by:
Managing its accounting and payroll
Providing excellent customer service
Obtaining the COVID relief funds that would prove to be critical to its survival
"I worked here for a million years, and now I own it."
Before she became the owner, Becky had already been working at Sports Page for years, serving and bartending. How did she come to own the place? "The old owner was ready to retire and he just said one day, 'Wanna buy a bar? I have one for cheap.' And I said, 'Okay!'"
"Coming into [owning] this place… I understood the restaurant and how it worked and what needed to be done, but I didn't understand how books worked and taxes… [The staff at CSI] were so helpful with helping me understand how things go and what I should be doing."
Staying With CSI: "They already know our books."
Becky didn't feel the need to shop around for another service and chose to continue using CSI Accounting & Payroll. "It was the best decision because they're amazing."
"When I took over, the old owner had CSI Accounting as their accounting and payroll and everything else already, so we just decided to go with them… He already spoke highly of them."
"They are just so quick to respond and so helpful with everything."
At CSI Accounting & Payroll, you get a dedicated point of contact on each service side. The difference between CSI and other service providers is that we don't charge extra for reaching out with questions. Becky works with Sam for accounting and Kris for payroll. "They're always there for whatever I need. They're awesome. [Plus,] they're funny."
"When I call and leave a message, they call back immediately." Becky joked, "I never feel like I'm bothering them. They never seem annoyed, you know, like, 'Ugh. Her again, with 10,000 questions.'"
She says she has even been extended the courtesy of being notified when they're not working but still having them follow up to make sure her requests weren't emergencies. That's great customer service!
Becky admits that mistakes can sometimes happen on her end because of the speed she works. There's a lot that goes into running a business, and there are only so many hours in a day! She says that if small mistakes do occur, such as forgetting to adjust someone's pay or hours, she can count on her Payroll Specialist, Kris, to fix them quickly.
Business During COVID: "It was very scary."
Becky acquired the business three years ago - only six months before COVID-19 hit. Although the bar had been successful before, it took a lot of damage from the government shutdowns.
On the accounting side, Becky says that her Account Manager, Sam, was really good about helping them go through their books, and he showed them how to fill out the paperwork to apply to both the ERC and the PPP. Becky said the forms were "crazy elaborate" - and she "never would have known how to do any of that paperwork [on her own.]"
These funds allowed them to stay in operation. "Right before we reopened, we were down to our last thousand dollars. And if it wasn't for that PPP paperwork money coming in, we never would've made it. So [Sam] helped us get all that stuff in order very quickly so that we could have money to reopen our doors, to pay the staff, and keep going."
Some of those COVID relief funds even helped the Sports Page staff put in new paint and carpet - and "make things shiny again."
When asked if Sports Page has recovered, Becky replied, "Yes - and then some. I mean, business has been so stinkin' good." We could see this was true as customers began to wait outside for the bar to open.
Working With CSI: "It's worth it."
Before we could even finish asking if Becky would recommend CSI, she cut in with an enthusiastic "Absolutely."
She said she already does recommend us to "literally anyone that's looking for accounting places" - although we're not for everyone, and we would encourage prospective clients to determine if we're a good fit to work together.
When other business owners have visited Sports Page in the past and asked about accounting solutions, Becky has answered, "Even if you're paying a little bit more than you were before… they're worth it."
After we concluded our interview, Becky added, "I meant every word of that."
---
If you're interested in becoming our newest success story, we hope you'll consider giving CSI Accounting & Payroll a try! Click the button below for a free consultation.
Not ready to talk yet? That's okay! You can learn more about the cost of monthly accounting by clicking the image below:
This article was composed by a member of our staff who interviewed our experts to get the facts straight. Any uncited information found here came straight from a knowledgeable accountant or payroll specialist.