Dreams of owning your own company or starting your own business probably didn't evolve from an inner passion to keep a general ledger or to prepare tax documents. You likely started a business to focus on something you love, but now you spend more time tracking reports and keeping the books than getting out and working on your business.
Outsource Accounting to Alleviate Stress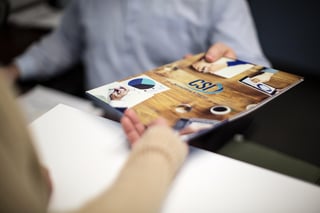 Small business owners usually start out tackling the ins and outs of running the company, from getting projects off the ground to buying office supplies.
You have a vision, and you know what it takes to get there – you just didn't realize that managing spreadsheets and balancing budgets was going to be the most time-consuming part of your job.
While it is important for business owners to know and be aware of all facets of their company, you can only spread yourself so thin. At some point, you have to ask where your time should be spent. Should you be out making sales and monitoring your employees, or should you be sitting in front of a computer, figuring out where an expense should be categorized?
Hiring an accountant can alleviate unnecessary stress – aspects of a business that you don't need to micromanage. Focus your time and energy on the creative and productive elements of your business, and get back to doing what you love.
Year-Round Accounting Advice
Another area that business owners may find frustrating is when they take that step of actually consulting a "tax person" and then find out that their expertise is only helpful during tax season.
You may have a tax specialist who comes in after you've gone over each income and expense to prepare your taxes, but if you could just hand that off entirely, you could spend more time developing your craft, making sales, or maybe even enjoying the fruits of your labor. There's no reason to struggle through late nights trying to figure out how an expense should be sorted or if you can use it as a write-off.
When you started the business, you hired the best professionals you could to work for you. The same should be done with your accounting. Why get fined or miss deductions because you don't have the best person on the job? If you loved accounting, you would have become an accountant. It's time to bring in a professional to do the job, just as you would with any other aspect of your business.
Separation Between Business and Personal Finances
Lastly, not only does bringing on an accountant protect your limited free time, it also protects the separation between your personal and business finances.
Often times, small business owners struggle to maintain the boundaries and balance between personal and business expenses.
Knowing the appropriate write-offs and whether they apply to personal or business accounting is tricky and can be overwhelming.
Now is the time to consult an experienced accountant who can help you navigate the financial jargon and practices that are necessary to assure that your business thrives year-round.